Meet our staff
Say hello to the staff at Grace Church. Have questions for the team? Contact us by clicking here.
Aaron and Nicole Olinski - Lead Pastors
Aaron and Nicole Olinski were married after graduating from Oral Roberts University in May 1998. Pastor Aaron began serving in ministry with the Fellowship of Christian Athletes immediately after graduating. Then in 1999, both Aaron and Nicole were hired to lead the Youth and Children's Ministries at a church here in Melbourne. Their first son Drew was born in 2002, and second, Derek, in 2004. When Derek was only one week old their family moved to Jacksonville, FL to help plant Oak Leaf Christian Fellowship as part of the pastoral team.
Then in July of 2009 they moved back to Melbourne to plant Grace Church Melbourne as the Lead Pastors and rounded out a trio of boys by welcoming their son Dex.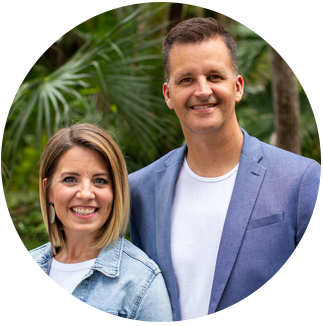 Jonny Block - Student Pastor
Jonny Block comes from a long line of pastors – his father and grandfather both committed their lives to being pastors and evangelists. Jonny followed in their footsteps starting out young in his ministry, volunteering in any way he could. When the time came for him to take on more responsibilities, he didn't hesitate and at 24 he became a youth and student pastor at his father's church in Missouri.
He and his wife Jessica were Pastors in that position for 10 years as they grew their family from 2 to 6, adding 4 beautiful children to their household – Creston, Kaci, Grace and Jolene. They now join Grace Church for their next great calling.
The Blocks are passionate about growing God's Kingdom knowing that God is an exciting thing to experience. Every time they come into contact with the students of Melbourne, they will be working under the understanding that students of all ages need spiritual guidance, encouragement from adults, and motivation to do what God has destined them to accomplish!